Digital Oscilloscope DS1074Z-S Plus
70MHz, 1GSa/s, 4CH DSO,24Mpts memory,17.8 cm LCD display (800×480 pixel). build-in 2CH-25Mhz-Generator.
This model can be upgraded to MSO with purchase of logic probe RPL1116 and has Built-in dual-channel 25 MHz function/arbitrary waveform generator
Get all options for free with the purchase of a new DS1000Z/MSO1000Z oscilloscope! All licenses are preinstalled! Options: SD-DS1000Z Serial Decoder, AT-DS1000Z Advanced Trigger, MEM-DS1000Z Memory Option, REC-DS1000Z Record-Module!
Analog channel bandwidth: 70 MHz
4 analog channels, 16 digital channels (only available for DS1000Z Plus that has been upgraded with the MSO upgrade option)
This model can be upgraded to MSO with purchase of logic probe RPL1116.
Built-in dual-channel 25 MHz function/arbitrary waveform generator
Real-time sample rate up to 1 GSa/s
Memory depth up to 24 Mpts
Up to 30,000 wfms/s waveform capture rate
Up to 60,000 frames hardware real-time waveform recording and playback functions
Innovative "UltraVision" technology
Various trigger and bus decoding functions Low noise floor, vertical scale range: 1 mV/div to 10 V/div
Built-in dual-channel 25 MHz function/arbitrary waveform generator (only for digital oscilloscope with source channels)
Various interfaces: USB Host&Device, LAN (LXI), AUX
Compact size, light weight, easy to use
7 inch WVGA (800x480) TFT LCD, intensity graded color display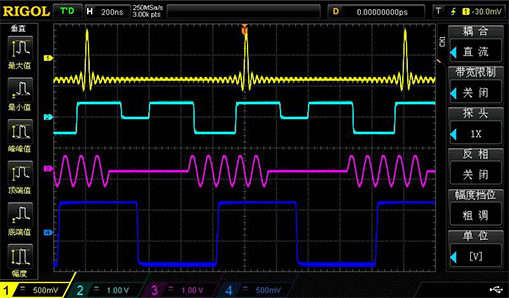 | Firmware Download | Description | File Size | Version | Release Date |
| --- | --- | --- | --- | --- |
| DS1000Z Firmware | DS1000Z Firmware | 1.85 MB | 00.04.04.04.03 | 2019-08-29 |
Be the first to review this product
Ratings & Reviews
Be the first to review this product
Write your review
About the Digital Oscilloscope DS1074Z-S Plus