Battery Regulation
EAG - Information on the return of electronic devices
The Electrical and Electronic Equipment Act - ElektroG regulates the placing on the market, the return and the environmentally friendly disposal of electrical and electronic equipment. Old electrical devices that are no longer used may no longer be thrown in the residual waste.
Elektro- und Elektronikgeräte | BMUV
Taking back electrical and electronic equipment
Rigol Technologies EU GmbH offers private end users/private households the following return options:
1:1 return of an old electrical device with an edge length > 25 cm when purchasing a new device of the same type
0:1 return of old electronic devices with an edge length of < 25 cm in normal household quantities.

Processing of the return:
As a customer, you can request a returns label from info@rigolshop.eu or by telephone on +49 (0)8105-27292-0.
For this, Rigol Technologies EU Gmbh needs some information from you in order to be able to process the return in accordance with the law.
After our service team has checked that the items are complete, you will be sent a return label (by email) with which you can return the old devices.
Choose a sturdy box so that the contents of the package are protected and transport is possible. Fill your package with crumpled paper as filling material so that the contents of the package cannot move freely and seal the package with adhesive tape.
The package with the label we have given you can then drop it off free of charge at one of the 29,000 Deutsche Post DHL acceptance points or by dropping it in one of the 120,000 mailboxes.
Alternatively, as a Rigol customer, you can also personally return old electrical equipment to the following address: Rigol Technologies EU GmbH, Carl-Benz-Str.11, 82205 Gilching.
Personal data: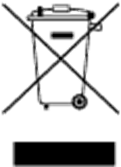 Please delete your personal data on the old devices before sending back to us.
Meaning of the crossed-out wheeled bin: An electrical product marked with the crossed-out wheeled bin may not be disposed of with household waste; a bar below the tonne or a date indicate whether or when the product was placed on the market after August 13, 2005.
Go to return label request: please send Email to info@rigolshop.eu