Digital Multimeter DM3058
5.5 Digital Multimeter(240,000 Count), 0.015% DC Voltage Accuracy, 123rdgs/s, USB, RS232, GPIB, LAN
Deliver in
2 - 4 working Days
Real 5½ digits resolution.
Three measurement speeds: 2.5 reading/s, 20 reading/s and 123 reading/s.
Double Display function enables to display two types of characteristic for one signal synchronously.
Two operation modes: Preset and Ordinary. Preset mode is able to store configuration quickly.
DC Voltage Range between 200mV and 1000V.
DC Current Range between 200μA and 10A.
True-RMS, AC Voltage Range between 200mV and 750V.
True-RMS, AC Voltage Current between 20mA and 10A.
Resistance Range between 200Ω and 100MΩ for 2&4-Wire ResistanceMeasurement.
Capacitance Range between 2nF and 10000μF.
Frequency Range between 20Hz and 1MHz.
Continuity and Diode Test.
Sensor Measurement function, Built-in Thermocouple compensate in Cold Terminal.
Abundant Math operations: Max, Min, Average, P/F, dBm, dB, RelativeMeasurement, Standard Deviation and Histogram.
Support the storage of data and configuration via USB flash device.
Support USB, GPIB, RS-232 and LAN interfaces. Support USB-TMC, IEEE 488.2 standard, LXI-C class standard and SCPI language.
In possession of compatible commands with both Agilent 34401A and Fluke 45.
Record and save the history measurement results.
Three kinds of management for Power Supply: PwrOn, Default and Switch.
Enable to store 10 groups of system configurations in the internal memory and recall them when required.
Backup or "Clone" all the configurations within instrument into other DM3058/DM3058E via USB flash device.
Chinese and English menu and online help system.
Provides with control software on PC and application software for sensor.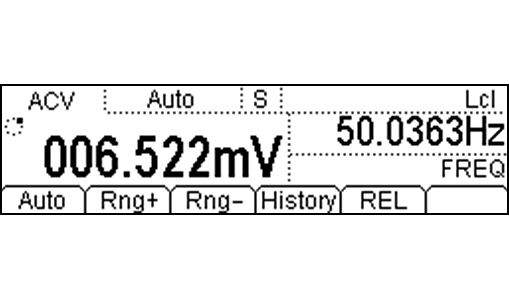 Be the first to review this product
Ratings & Reviews
Be the first to review this product
Write your review
About the Digital Multimeter DM3058