Digital Oscilloscope DS1104Z Plus
Analog channel bandwidth: 100 MHz, 4 analog channel, 16 digital channel, 1 GSa/s, Memory depth up to 24 Mpts, Up to 30,000 wfms/s waveform capture rate, Trigger and Decoding options are permanent free installed, UltraVision, USB Host&Device, LAN (LXI), AUX, 7-inch WVGA (800x480) TFT LCD Display
Get all options for free with the purchase of a new DS1000Z/MSO1000Z oscilloscope! All licenses are preinstalled! Options: SD-DS1000Z Serial Decoder, AT-DS1000Z Advanced Trigger, MEM-DS1000Z Memory Option, REC-DS1000Z Record-Module!
Deliver in
2 - 4 working Days
Analog channel bandwidth: 100 MHz
4 analog channels, 16 digital channels
Real-time sample rate up to 1 GSa/s
Memory Depth up to 24 Mpts
Up to 30,000 wfms/s waveform capture rate
Up to 60,000 frames hardware real-time waveform recording and playback functions
Innovative "UltraVision" technology
Various trigger and bus decoding functions
Low noise floor, vertical scale range: 1 mV/div to 10 V/div
Various interfaces: USB Host&Device, LAN (LXI), AUX
Compact size, lightweight, easy to use
7-inch WVGA (800x480) TFT LCD, intensity graded color display
Logic probe RPL1116 need to be extra purchased for the MSO function.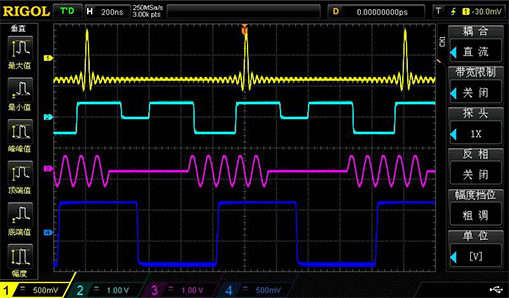 | Datasheet Download | Description | File Size | Version | Release Date |
| --- | --- | --- | --- | --- |
| MSO1000Z_Datasheet | MSO1000Z_Datasheet | 6.53 MB | V1.0 | 2019-08-29 |
| DS1000Z_Datasheet_ES | DS1000Z_Datasheet_ES | 4.92 MB | latest | 2022-06-21 |
Be the first to review this product
Ratings & Reviews
Be the first to review this product
Write your review
About the Digital Oscilloscope DS1104Z Plus